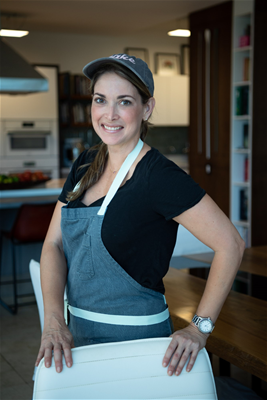 Edna Cochez is a chef & entrepreneur based in Panama City, Panama. She founded The Panama Baking Factory in 2003, a wholesale bakery that supplied local coffee shops & resturants; she also co-founded The Upper Crust Sandwich Bar, in 2012-2016, a full service café.
Since 2018 she is a brand ambassador for Miele, Lurpak butter, and Nestle, among others, and creates written and video content for their social media channels. She started her blog in 2108, and soon after came the bi-weekly newsletter, Con las Manos en la Masa, and website, www.ednacochez.com, where she offers online courses, e-books, among other offers. She created #Edna'sKitchenProject, a private, hands-on 10-week cooking course and in Sept 2020 she opened Edna´s Baking School on the Patreon platform, an online bread baking program.
In 2019 she was one of the 3 permanent judges in Season 4 of the Top Chef culinary competition, Panama edition.
She holds a Political Science degree from The University of the South in Sewanee, TN, speaks English and Spanish fluently, and has gotten her baking education from San Francisco Baking Institute, King Arthur Baking Center, Notter School of Pastry Arts, Zingtrain at Zingerman´s Community of Businesses, & AIB (American Institute of Baking).
Edna was recently selected to the Board of Directors of the Bread Baker´s Guild of America in June 2021. Edna´s happily married and a mother of four beautiful children.
8/17/2021 2:45 PM
Room: Show Floor Demo Area
8/18/2021 2:45 PM
Room: Show Floor Demo Area