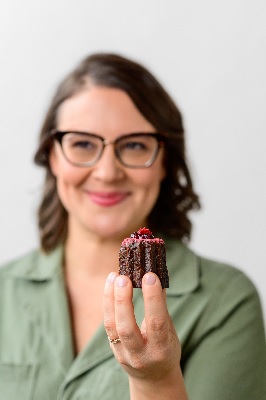 Jenny McCoy
Pastry Chef, Author, Instructor
Just after graduating from high school, Jenny enrolled in the Baking and Pastry Program at Chicago's Kendall College, on a whim. Knowing she wasn't ready to enter college proper, she decided, "If I like baking, I'll have a job; if I don't, I'll know how to cook—where's the harm?" Lucky for Jenny, she fell in love with the kitchen and landed positions in a variety of Chicago's top restaurants, including Charlie Trotter's, Blackbird, Gordon and Bittersweet Bakery. It was in these kitchens where Jenny learned to refine her palate and develop her talent for composing seasonal desserts.
From there, Jenny went on to lead the pastry departments for many other incredible chefs in New Orleans and NYC, such as Emeril Lagasse, Tom Colicchio, Marc Forgione and Missy Robbins. She's written two cookbooks, Jenny McCoy's Desserts for Every Season and Modern Eclairs: And Other Sweet and Savory Puffs. Aside from baking and writing, Jenny spent several years sharing her expertise with aspiring pastry chefs at the Institute of Culinary Education in NYC. She co-founded a line of Fair-Trade baking and hot cocoa mixes that can be found in grocery stores nationwide and developed an exclusive line of baking and confection mixes with Crate & Barrel. Jenny has appeared on Food Network, Dr. Oz, and hosts several online baking classes with NBCUniversal's Bluprint. Her work has been featured in People magazine, Bon Appetit, Food & Wine, The New York Times, and many print and media outlets for her work as an authority in the baking and pastry industry.
She's been honored by StarChefs as winner of Rising Star Pastry Chef NYC in 2011, her first cookbook was a finalist for Best Dessert Cookbook by the IACP in 2013, she won 3rd place for Best Apple Pie in all of NYC in 2008, and has more than one glowing review for her work in The New York Times.
6/22/2021 9:30 AM
Room:
6/22/2021 3:30 PM
Room:
6/23/2021 11:45 AM
Room: